Step 1: Watch the Antarctica Trip Video Below 
(press play in the lower left corner)
Step 2: 

Ready For The Adventure Of A Lifetime? Only 81 Spots Left!
The Next Voyage Departs In:
Now that you've watched the video and are excited to ski/snowboard, trek and kayak in Antarctica with the ONLY commercially permitted operation on the planet allowed to do those activities, If you feel you're ready to join our next voyage and experience Antarctica while you still can, click the button above to schedule a call with Doug, the Founder of Ice Axe Expeditions. Use the menu below to learn more about the trip specifics. Remember space is limited.
Expedition Overview
Join us for a unique itinerary to the remote wilderness of the Antarctic Peninsula. Our trips and itineraries are customized for those with an adventure-driven spirit; providing our clients with a unique opportunity to trek, ski and snowboard several of the White Continent's untamed peaks. Journey deep into the rugged landscape of one of earth's last frontiers while enjoying the convenience, safety, and comfort of the Ocean Albatros expedition ship. Sail past Cape Horn, across the Drake Passage, and along the Antarctic Peninsula and join an exclusive group of intrepid travelers inspired by the legacy of Antarctic discovery.
Experience true modern exploration as you travel to a land covered by glaciers, never conquered by man. Travel through alleys of icebergs and study the blue mystery of such extraordinary formations of nature. Explore harbors and bays while surrounded by clouds of seabirds and become enveloped in the raw magnificence. Witness the profound beauty and isolation of a land covered by ice. Listen to glaciers calve and observe with wonder minke whales, black-browed albatross, snow petrels, penguins and seals.
Ponder the complexity of the fragile and dynamic ecosystem of the Antarctic Peninsula. Daily shore landings, lectures, and zodiac excursions will cover the history, biology, geology and politics of our Southernmost continent. Actively explore this frontier or contemplate the social structure of a penguin colony-this once-in-a-lifetime trip is for you.
Got Questions? Schedule a Call
What's Included?
✅ A comprehensive pre-departure information package + Swag.
✅ 1-night pre-expedition shared hotel accommodation in Ushuaia, Argentina. This room includes a continental breakfast.
✅ Group welcome dinner in Ushuaia.
✅ Group transfers from the hotel to the ship on embarkation and from the ship to the airport on disembarkation and all miscellaneous service taxes and port charges.
✅ 11 days aboard a new Polar Code 6 / Ice Class 1A vessel.
✅ Fine dining on-board: breakfast, lunch, and dinners. (unlimited coffee & tea)
✅ Intimate group experiences.
✅ Zodiac excursions touring icebergs and glaciers as permitted by weather and conditions.
✅ Two outdoor hot tubs on the midnight sun pool deck for your enjoyment.
✅ Antarctic Ocean Polar Plunge.
✅ Multiple landings at penguin rookeries.
✅ Presentations by our Expedition Team and guest speakers.
✅ Photographic trip-log shared after the voyage.
✅ A pair of rubber expedition boots on loan for shore landings.
✅ Memories that last forever!
________________________________________________________________________________________________
✔ Optional activities: Kayaking, ski/snowboarding, trekking, a multi day pre-trip glacier travel course, and photography workshops (let us know your interested on the call!)
✔ Condition & location-dependent possibilities: Visit and ski in an ancient flooded caldera on Deception Island.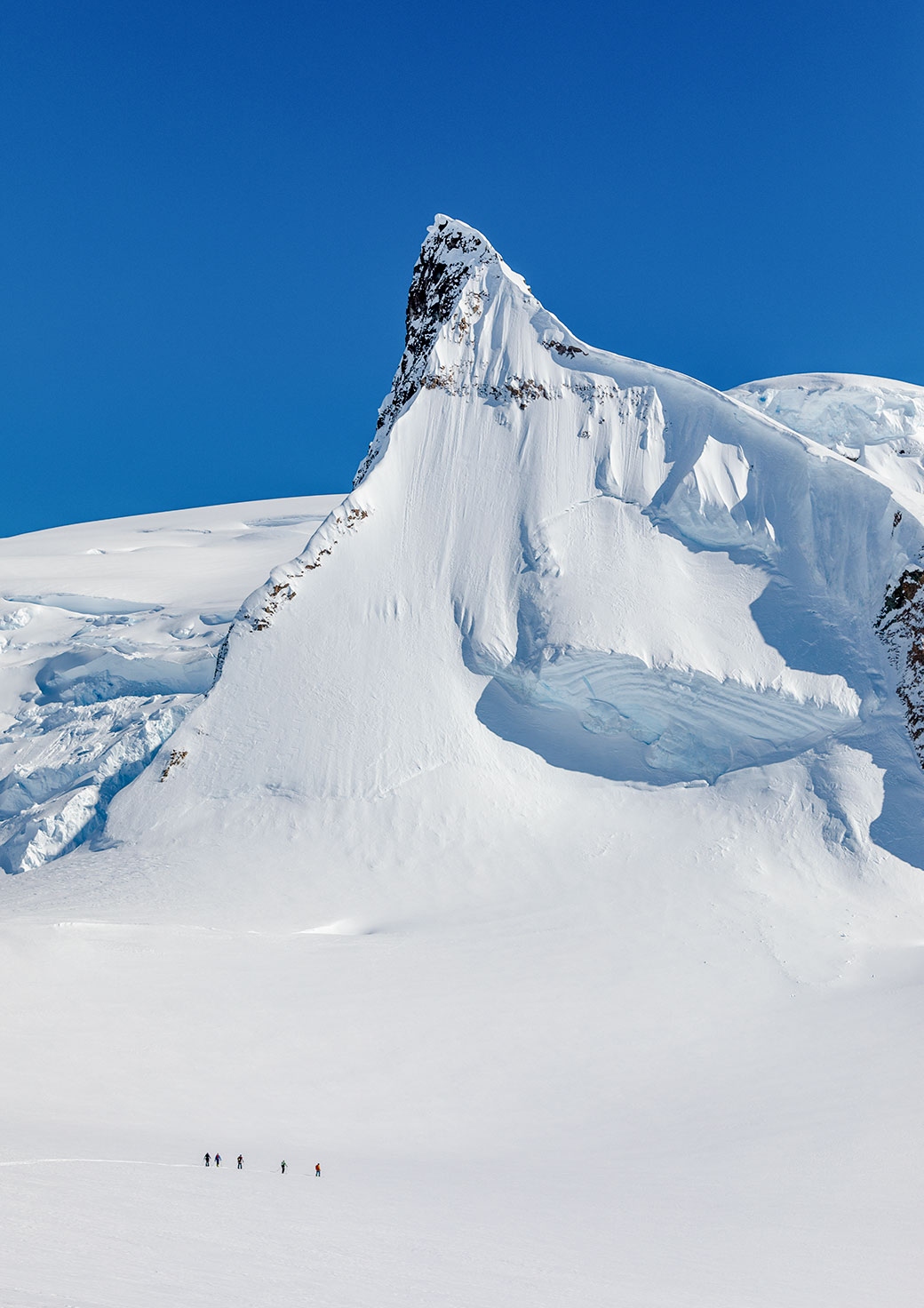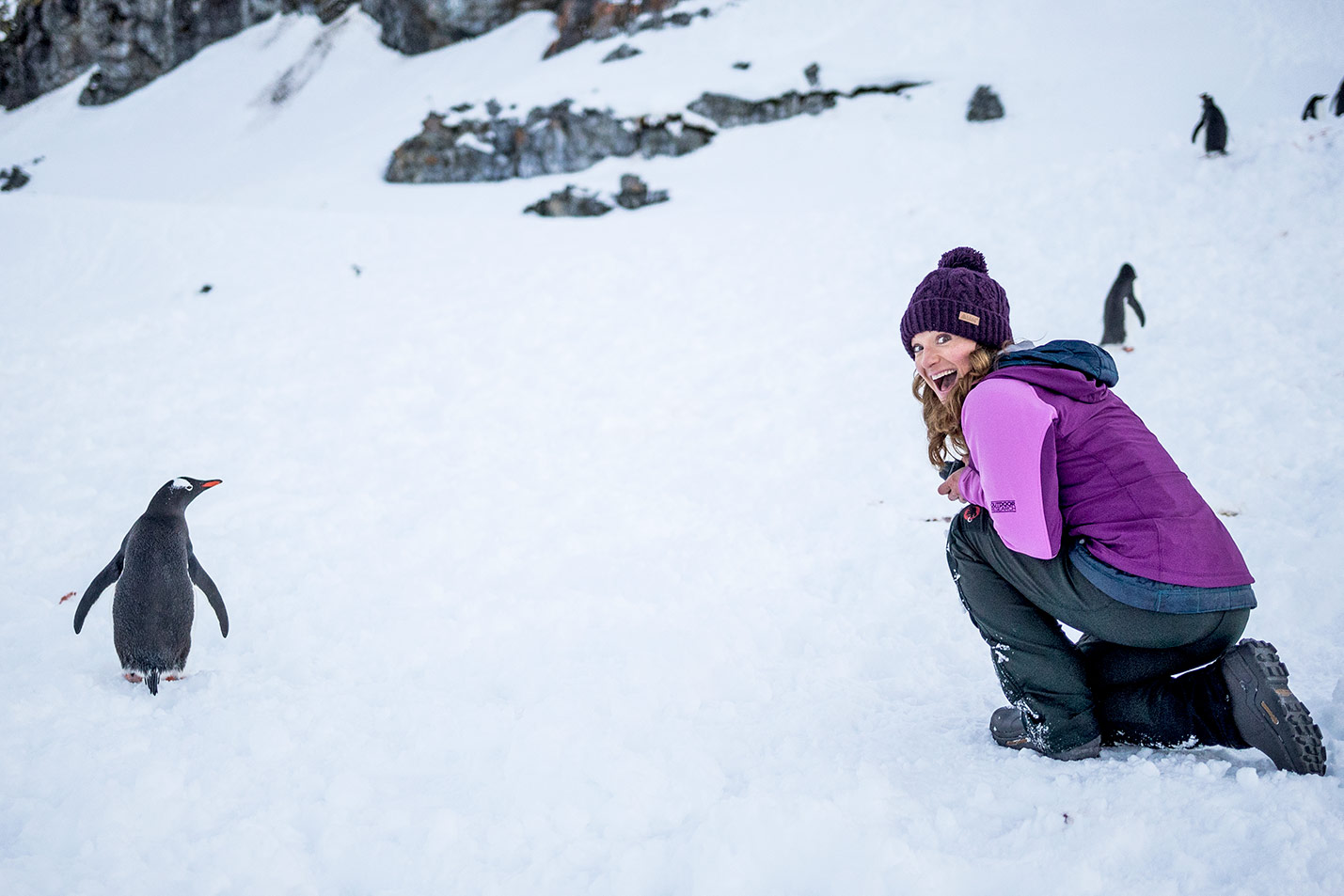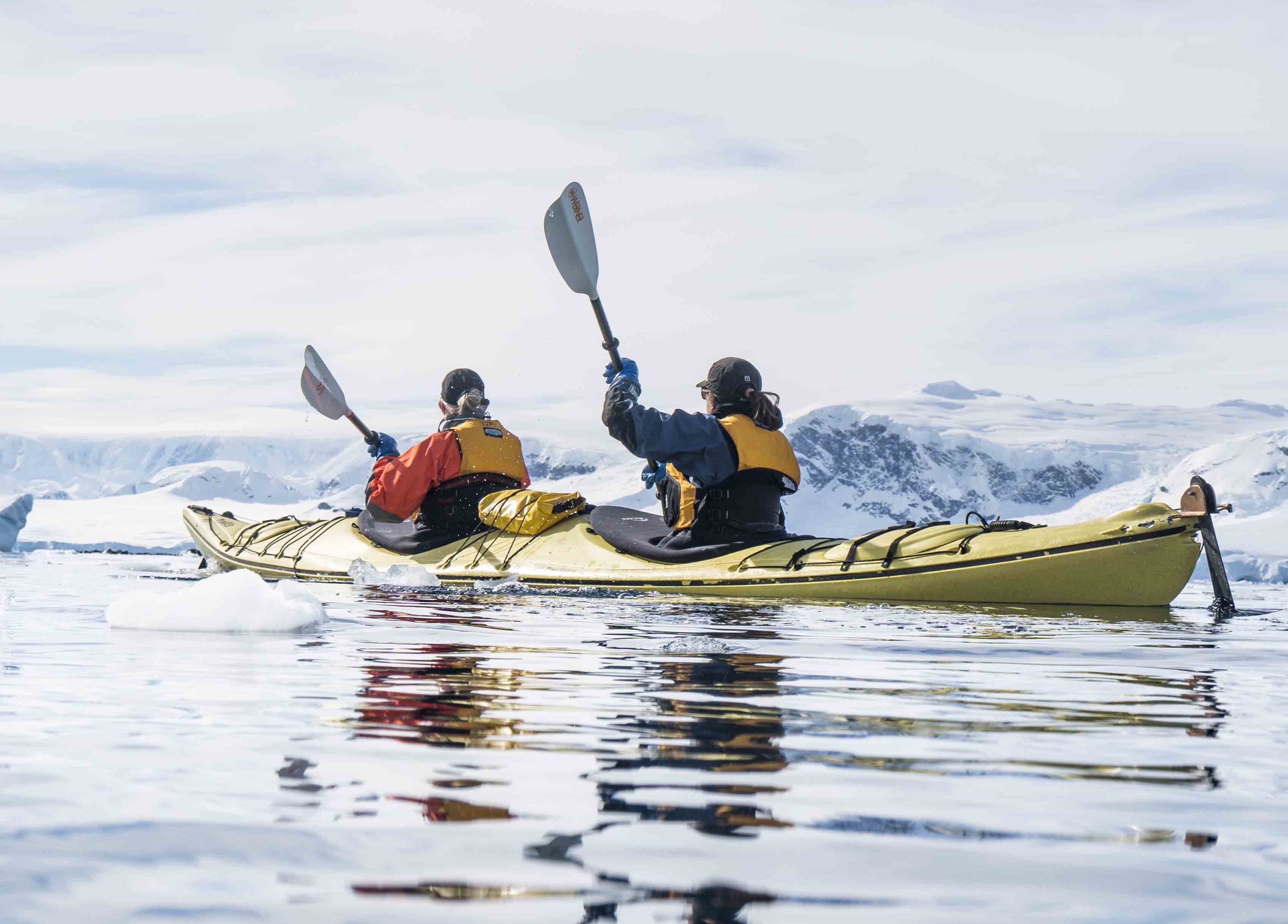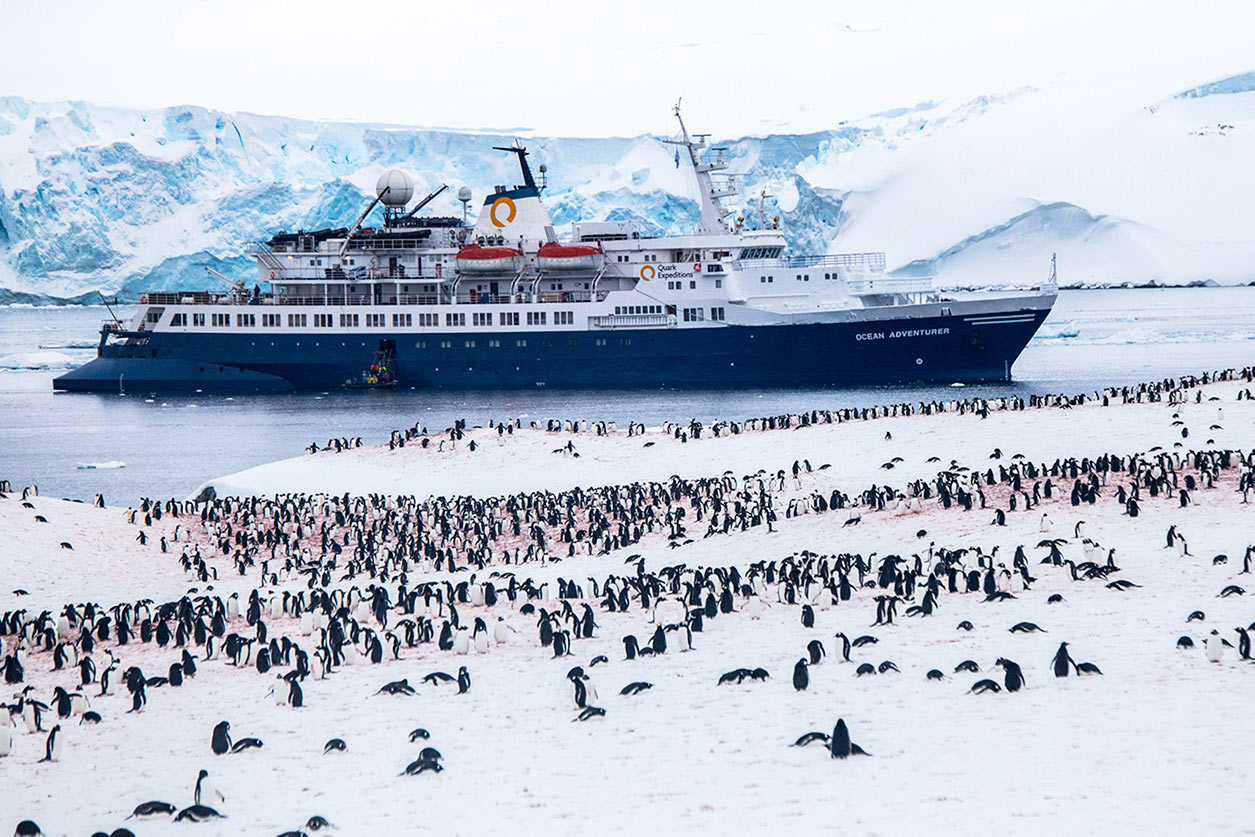 What's Not Included?
✘ Airfares to or from your home city, whether on scheduled or charter flights.
✘ Passport and visa expenses. Tourist entry fees may apply depending on your nationality.
✘ Any government arrival and departure airport taxes.
✘ Ski or trekking equipment.
✘ Any meals ashore with the exception of breakfast at the host hotel and the welcome dinner on the evening prior to departure.
✘ Baggage, cancellation and travel insurance (emergency medical and evacuation insurance is mandatory. Ice Axe can help you to arrange this insurance if you need assistance.)
✘ Excess baggage charges.
✘ Laundry, bar, beverage and other personal charges onboard the ship or at the hotel.
✘ Telecommunications and wifi charges. 
✘ Tips for guides, stewards, and hospitality staff.
Itinerary
PreTrip – *Antarctic Prep/Glacier Travel Clinic (optional paid add-on): A 2-day course in Ushuaia on the Martial Glacier before we board the ship. It's designed for beginner and experienced guests to learn and/or refresh the skills needed to have a safe and successful adventure with us in Antarctica.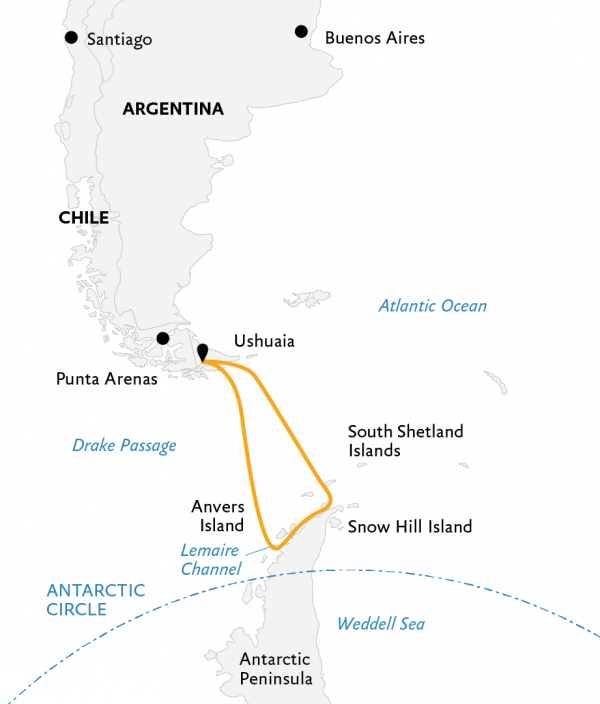 Day 1 –  Arrive in Ushuaia, Argentina. Orientation with your ski or trekking guide at the Marshall glacier. Welcome Dinner. Overnight in Ushuaia.
Day 2 – Board the Ocean Albatros and set sail down the Beagle Channel.
Day 3 – Cross the Drake Passage. Sperm, fin, and humpback whales, along with skies of seabirds will accompany our journey.
Day 4 – Continue crossing the Drake Passage.
Day 5 – Ski & trekking objectives at Neko Harbour. Zodiac cruises, penguin rookeries, hiking.
Day 6 – Ski & trekking objectives at Anvers and Wenke Islands. Port Lockroy scientific base and museum. Visit Gentoo and Adelie penguin habitats.
Day 7 – Ronge/Island/Mt. Britannia. Visit a penguin rookery at Georges Point.
Day 8 – Ski, trekking, and kayak objectives in Paradise Bay. Zodiac excursions. Visit penguin rookery and Almirante Brown Station.
Day 9 – Lemaire Channel/Mt. Scott/Mt. Demaria/Mt. Mill ski descents. Visit the Ukrainian Vernadsky scientific station. Killer whale & leopard seal sightings.
Day 10 – New ski descents and nature cruises of Charlotte Bay; begin the journey north.
Day 11 – Sail the Drake Passage; pass the dramatic cliffs of Cape Horn.
Day 12 – Continue sailing Drake Passage. 
Day 13 – Disembark in Ushuaia, Argentina.
Important reminder: Embracing the unexpected is part of the legacy – and excitement – of expedition travel. There are no guarantees that we can achieve everything we set out to accomplish. A measure of flexibility is something all of us must bring to a voyage. There are nearly 200 recognized sites in the Antarctic Peninsula and South Shetlands and the places mentioned above may be changed to others equally as interesting. This program is subject to change throughout the journey depending on ice, weather, and local conditions.
Reserve My Spot Now
What Our Past Clients Have To Say
My wife and I operate a cat skiing lodge called Mustang Powder in British Columbia, Canada, and a friend and I organized a large group of skiers and sea kayakers to do this trip. The Ice Axe staff were all professional, courteous, helpful, and passionate about Antarctica and the expedition. It is hard to describe what is so special about Antarctica, but it is awe-inspiring and I highly recommend this trip!
This trip is dedicated to skiing and other activities on the continent. Ice Axe uses world-class professional guides and has years of experience with this program. I have several friends that have been on this trip as clients and guides, and I had only heard amazing stories of previous trips. There was so much more than the skiing –- wildlife (could not get enough of the penguins!), icebergs, glaciers, and the non-stop scenery. The Ice Axe clients and guides are fascinating people from all over the world –- the stories and experiences of this group were endlessly entertaining.
We have been on four Antarctic Ski Expeditions with Doug Stoup. He is an excellent leader and has a group of world-class professional ski guides from around the world. There is nowhere on earth like Antarctica and Doug knows it better than anyone on earth.
I am an 18-year-old soon-to-be college student currently on my gap year. I have always loved traveling, but visiting Antarctica was something altogether different. It was the excitement and beauty of experiencing a new place mixed in with unforgettable people and the opportunity to explore the continent in my absolute favorite way of travel in the world . . . snowboarding!! I always want to strive for more and push myself to do cooler, crazier things, but this trip taught me at a young age what it feels like to have a dream come true. It was everything I could have wished for and more.
Ice Axe Expeditions 12242 Business Park Drive, Suite 4, Truckee, CA 96161
Copyright © 2023 www.iceaxe.tv
Privacy Policy | Terms
This site is not a part of the Facebook website or Facebook Inc. Additionally, this site is NOT endorsed by Facebook in any way. FACEBOOK is a trademark of FACEBOOK, Inc.