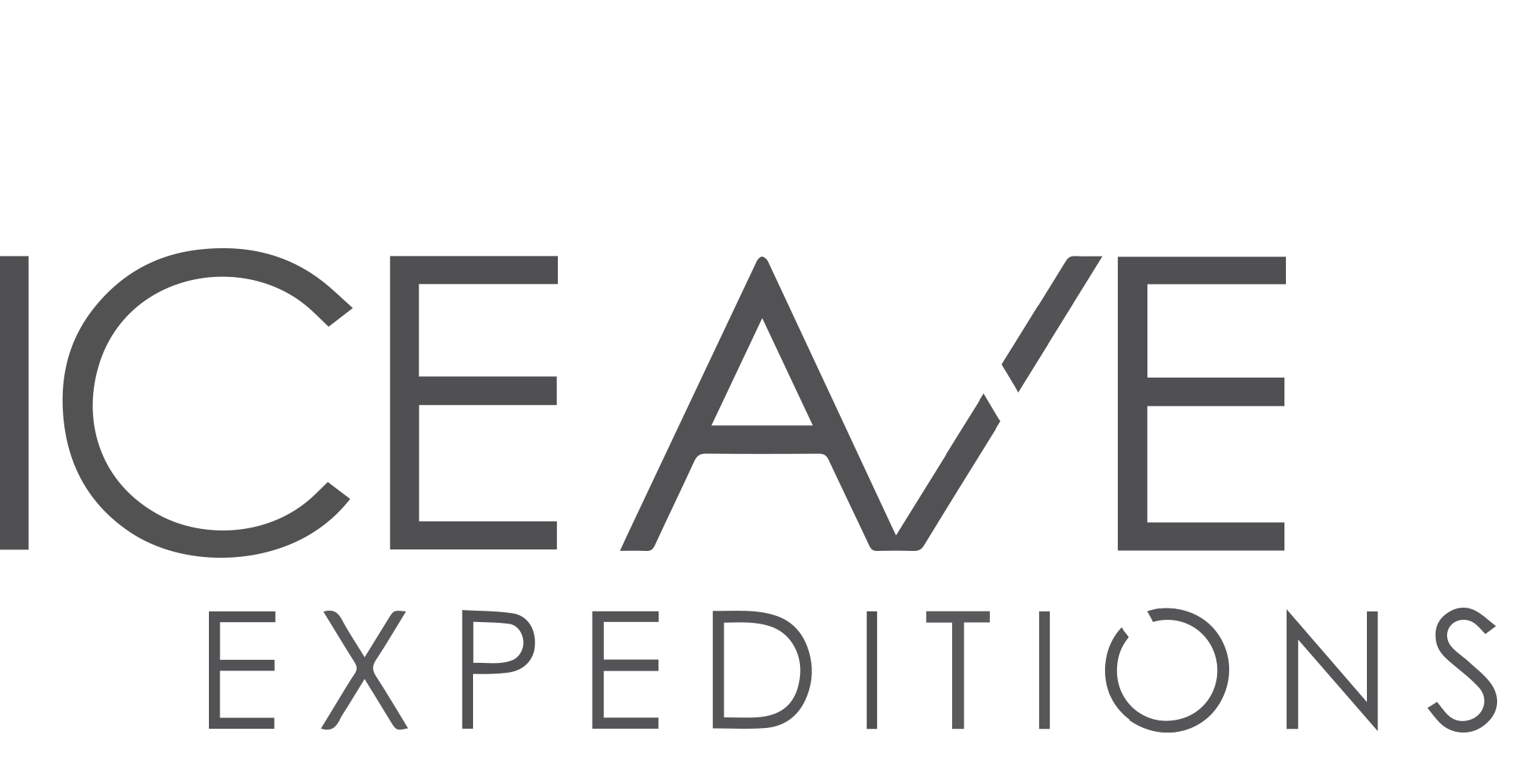 The Adventure Of A Lifetime
Want to Ski or Snowboard with Penguins in Antarctica?
Fill out the form below to watch what this trip-of-a-lifetime is all about
Next Voyage – Oct. 19-31, 2024
Only

92 Spots Remaining
Antarctic Peninsula Adventure Cruise
EXPEDITION OVERVIEW
Join us for a unique itinerary to the remote wilderness of the Antarctic Peninsula. Our trips and itineraries are customized for those with an adventure-driven spirit; providing our clients with a unique opportunity to trek, ski and snowboard several of the White Continent's untamed peaks. Journey deep into the rugged landscape of one of earth's last frontiers while enjoying the convenience, safety, and comfort of the Ocean Albatros expedition ship. Sail past Cape Horn, across the Drake Passage, and along the Antarctic Peninsula and join an exclusive group of intrepid travelers inspired by the legacy of Antarctic discovery.
Experience true modern exploration as you travel to a land covered by glaciers, never conquered by man. Travel through alleys of icebergs and study the blue mystery of such extraordinary formations of nature. Explore harbors and bays while surrounded by clouds of seabirds and become enveloped in the raw magnificence. Witness the profound beauty and isolation of a land covered by ice. Listen to glaciers calve and observe with wonder minke whales, black-browed albatross, snow petrels, penguins and seals.
Ponder the complexity of the fragile and dynamic ecosystem of the Antarctic Peninsula. Daily shore landings, lectures, and zodiac excursions will cover the history, biology, geology and politics of our Southernmost continent. Actively explore this frontier or contemplate the social structure of a penguin colony-this once-in-a-lifetime trip is for you.
Watch Video & Learn More
What's Included?
1-night pre-expedition shared hotel accommodation in Ushuaia, Argentina. This room includes a continental breakfast.

Group welcome dinner in Ushuaia.

Group transfers from the hotel to the ship on embarkation and from the ship to the airport on disembarkation + all miscellaneous service taxes and port charges.

Fine Dining on board the Ocean Albatros: breakfast, lunch, and dinner.

Shore landings and Zodiac excursions as permitted by weather and local conditions. 

Ski guide services, maintaining a 4:1 client to guide ratio.

Presentations by our Expedition Team and guest speakers.

Comprehensive pre-departure information package.

Use of a pair of rubber expedition boots on loan for shore landings. These will be returned at the end of the voyage.

Photographic trip log shared after the voyage.

Memories that last a lifetime!
Optional:
Kayaking, skiing/snowboarding, trekking, a pre-trip glacier travel course, polar plunge,  photography workshops, fine art coffee table books by Mosaic Studios.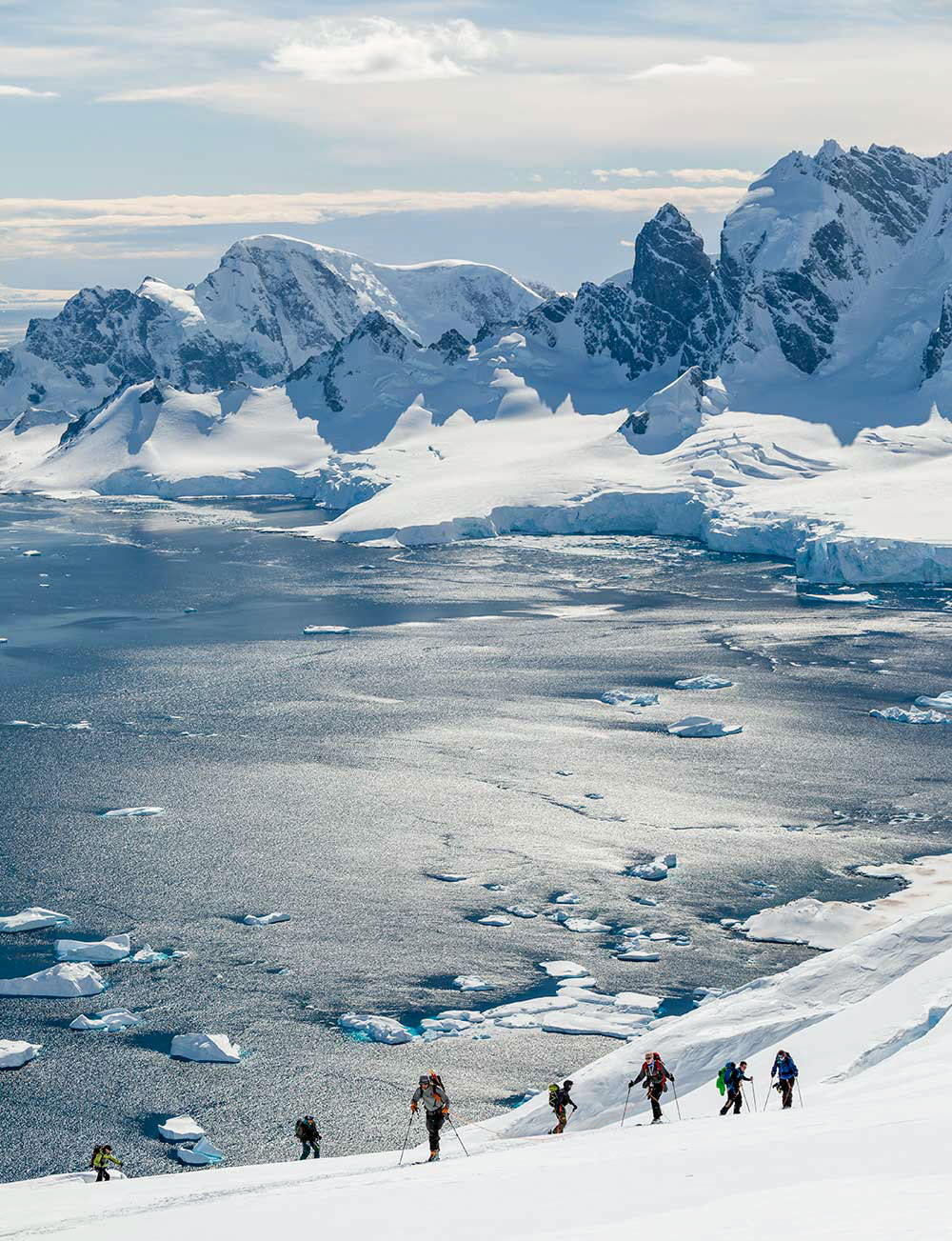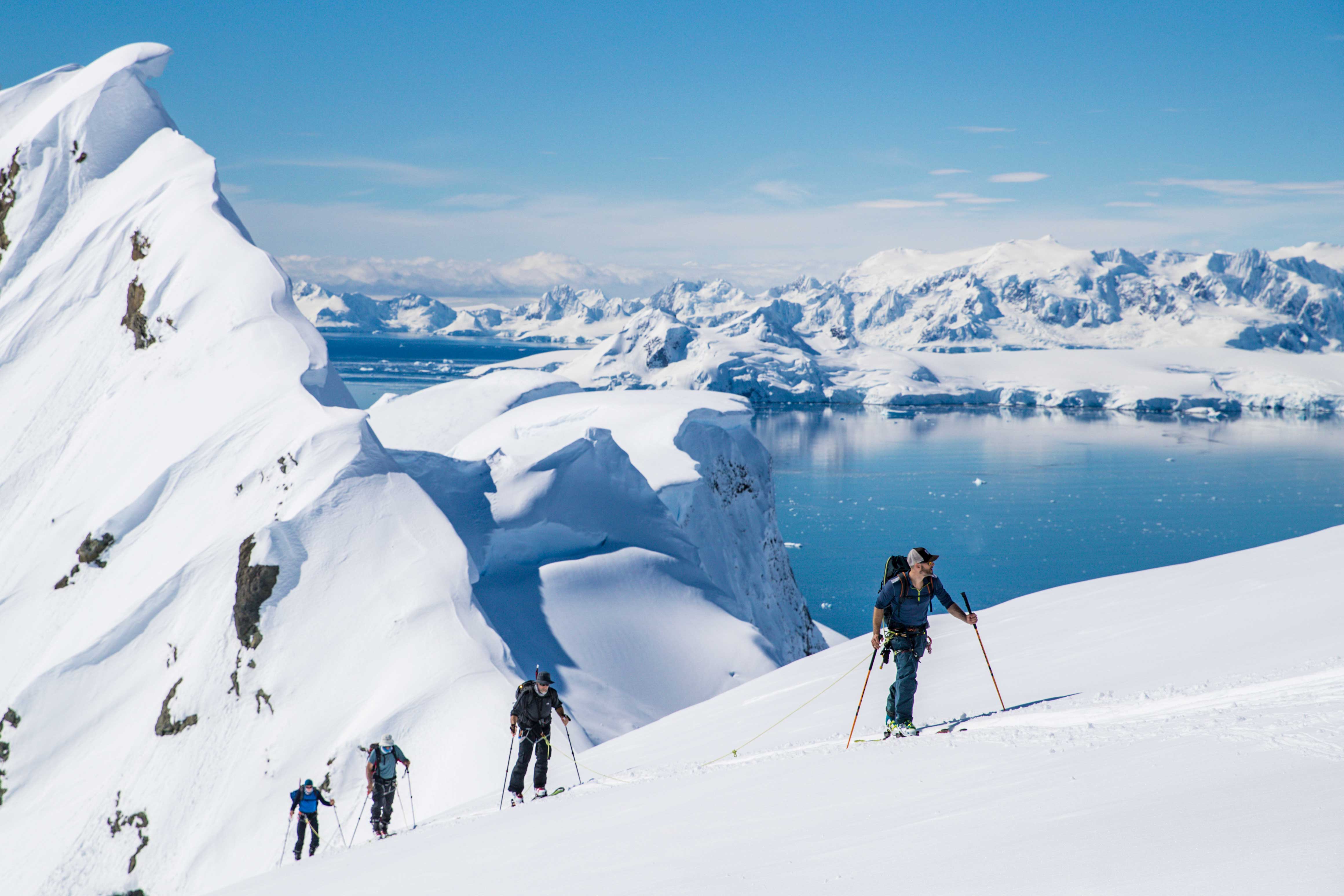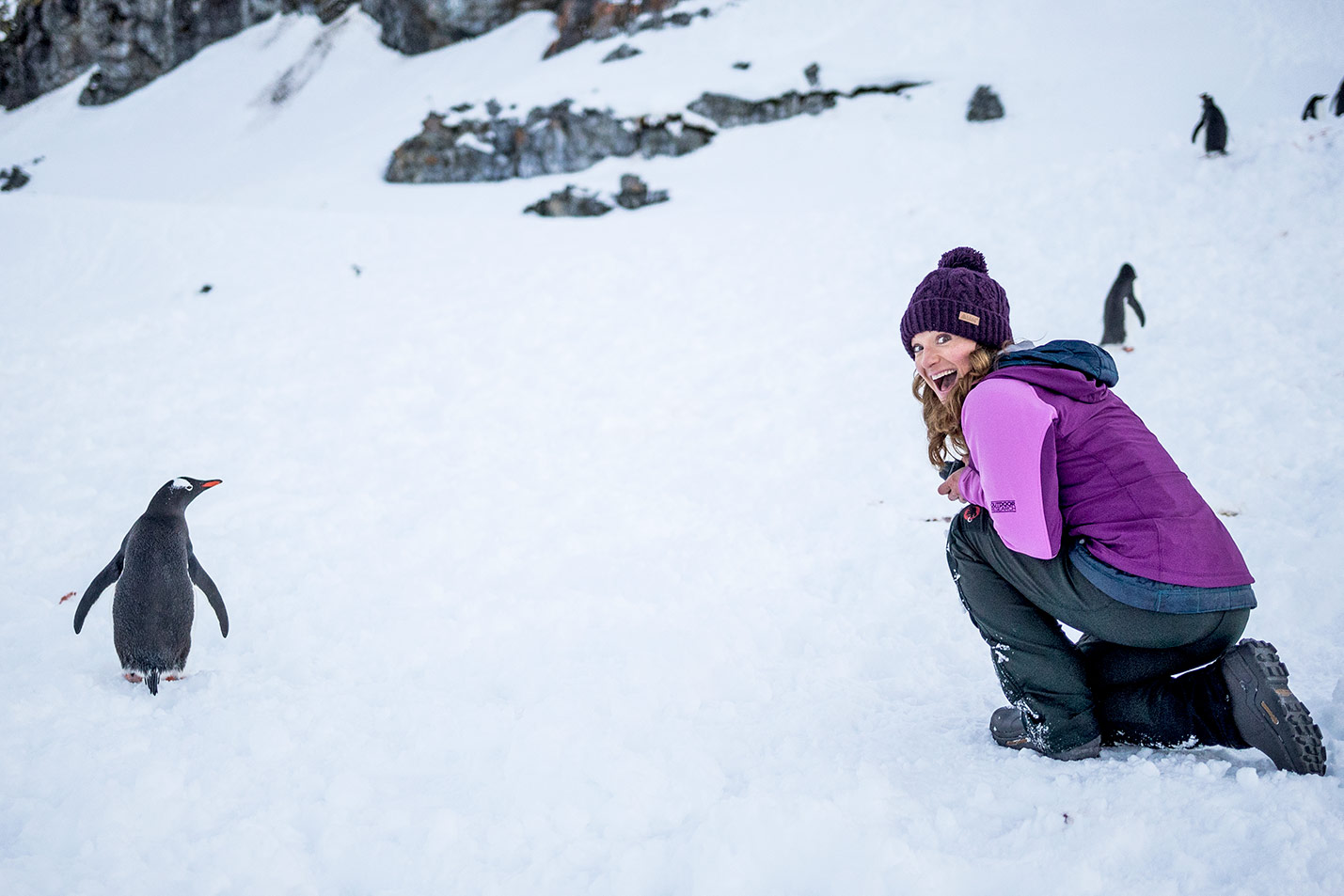 Itinerary*
Day 1 –  Arrive in Ushuaia, Argentina. Orientation with ski or trekking guide. Welcome Dinner. Overnight in Ushuaia.
Day 2 – Board the Ocean Albatros and set sail down the Beagle Channel.
Day 3 – Cross the Drake Passage. Sperm, fin, and humpback whales, along with skies o'seabirds will accompany our journey.
Day 4 – Continue crossing the Drake Passage, possible afternoon ski and trekking objectives at Deception Island in the South Sheltlands.

Day 5 – Ski and trekking objectives at Charlotte Bay and Bluff Island.
Day 6 – Ski and trekking objectives at Nansen and Enterprise Islands. Zodiac cruises, penguin rookeries, and kayaking.
Day 7 – Ski and trekking objectives at Wenke Island and Damoy Point. Lemaire Channel.
Day 8 – Ski and trekking objectives at Ronge Island, Mt. Britannia. Visit penguin rookery at Georges Point on Cuverville Island.
Day 9 – Ski and trekking objectives on Brabant Island at Chiguano Bay. Killer whale and leopard seal sightings. Zodiac cruises, penguin rookeries, and kayaking.
Day 10 – New ski descents and nature cruises Livingston Island and Half Moon Bay in the South Shetlands. Zodiac cruises, penguin rookeries, and kayaking; begin journey north in the evening. 
Day 11 & 12 – Sail Drake Passage; pass the dramatic cliffs of Cape Horn.
Day 13 – Disembark the Ocean Albatros in Ushuaia, Argentina.
*Flexibility is necessary for all Antarctic travel. The program is subject to change throughout the journey depending on ice, weather, and local conditions. Safety is our #1 priority.
View Video & Learn More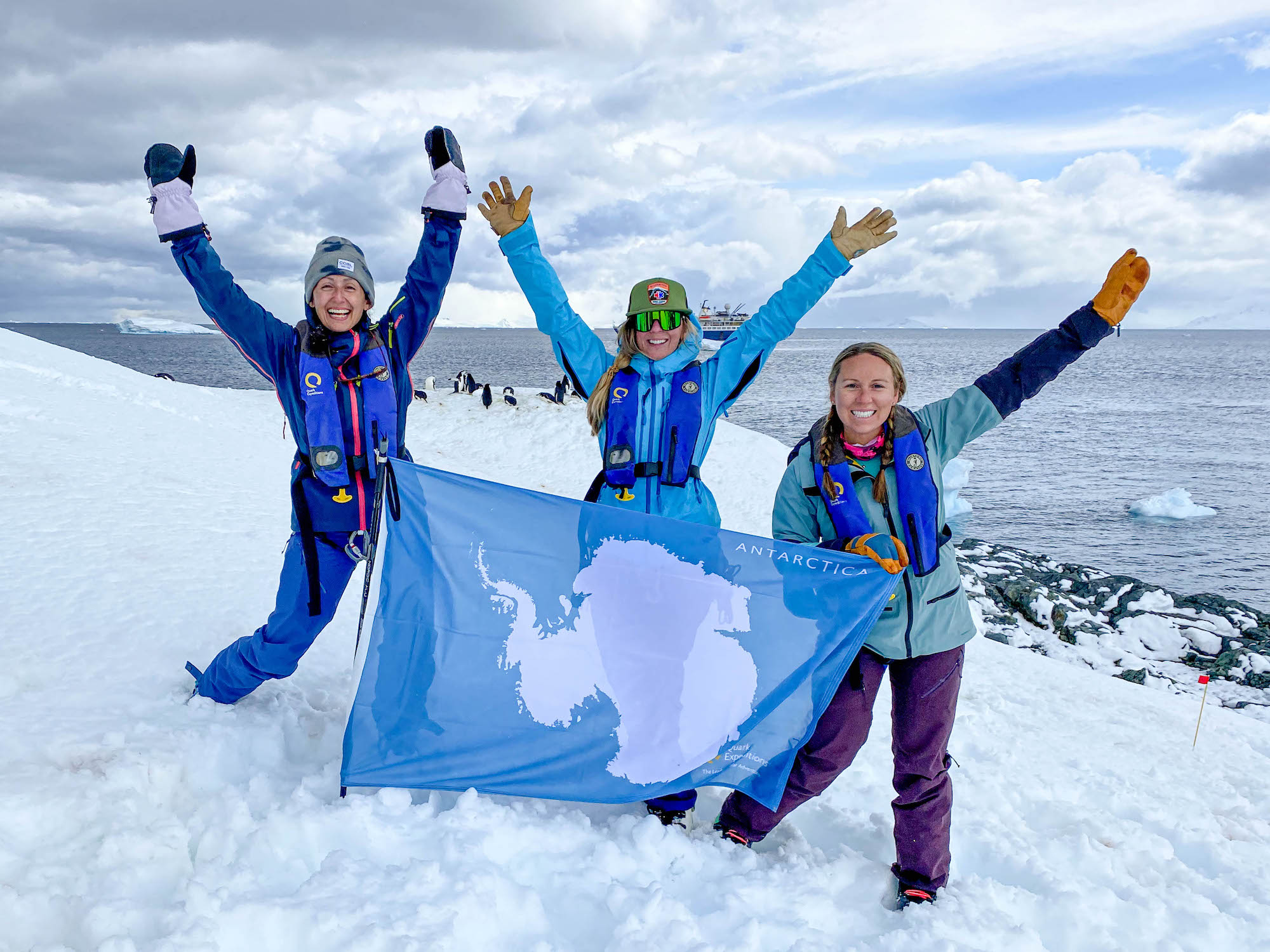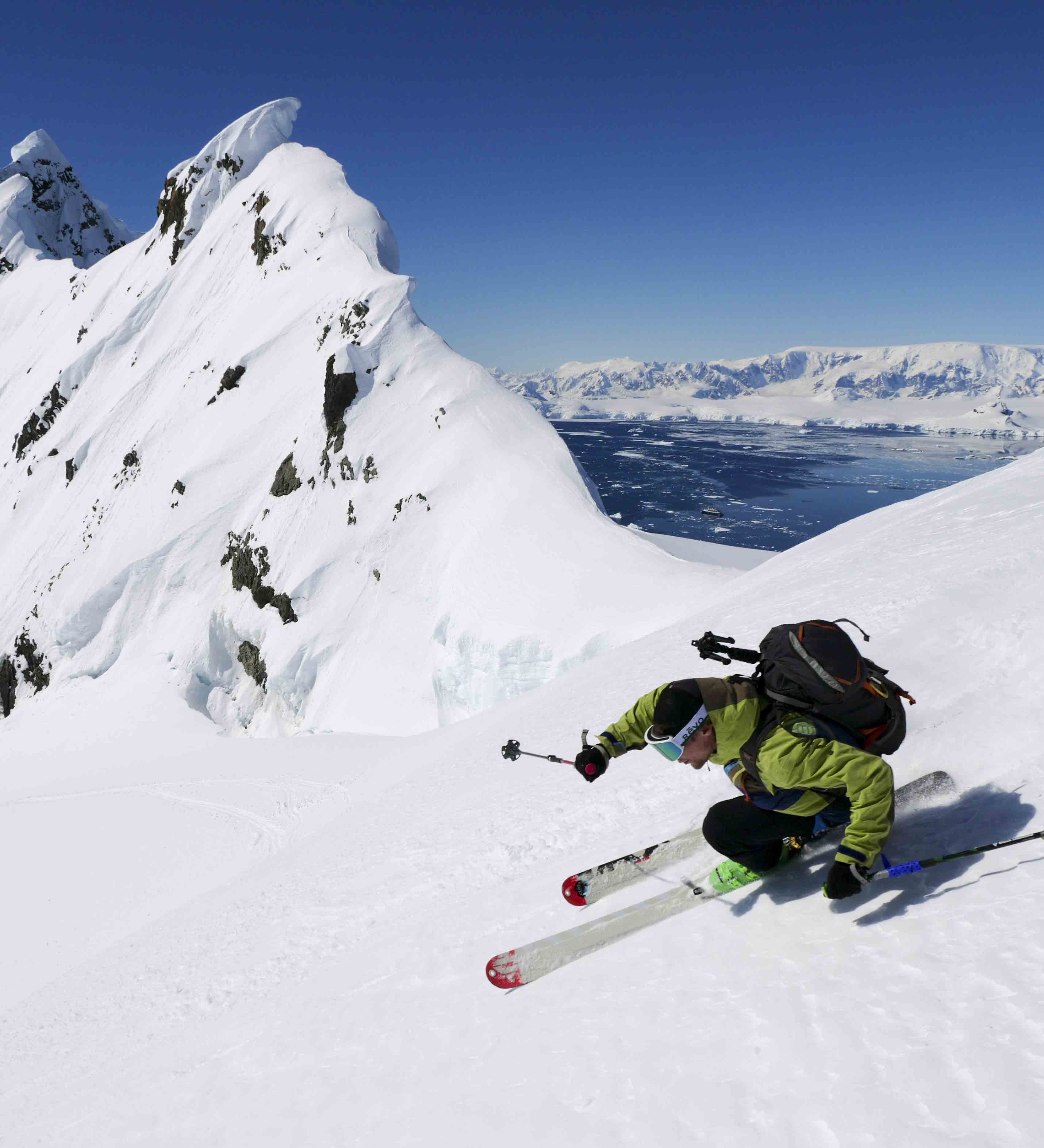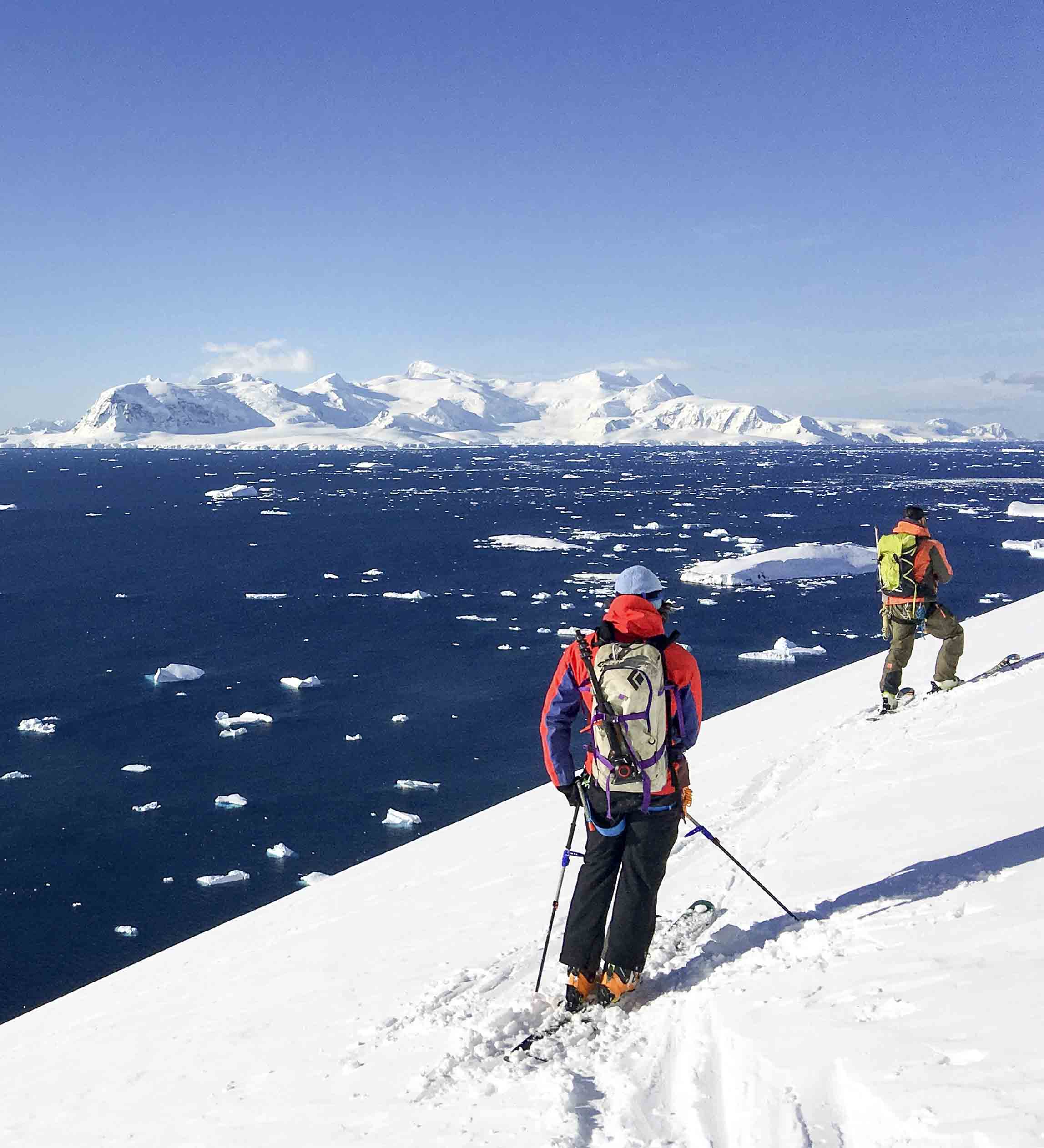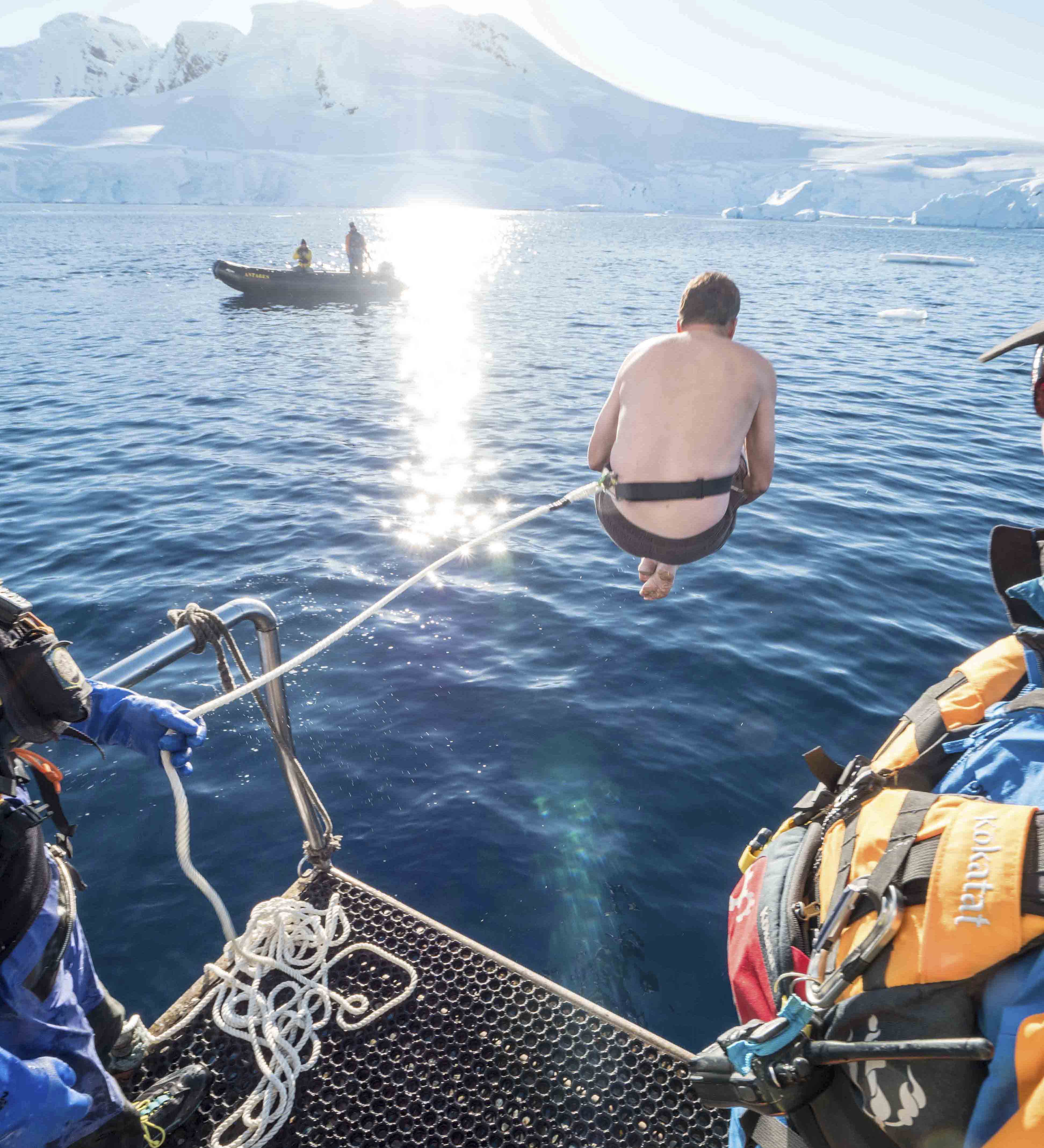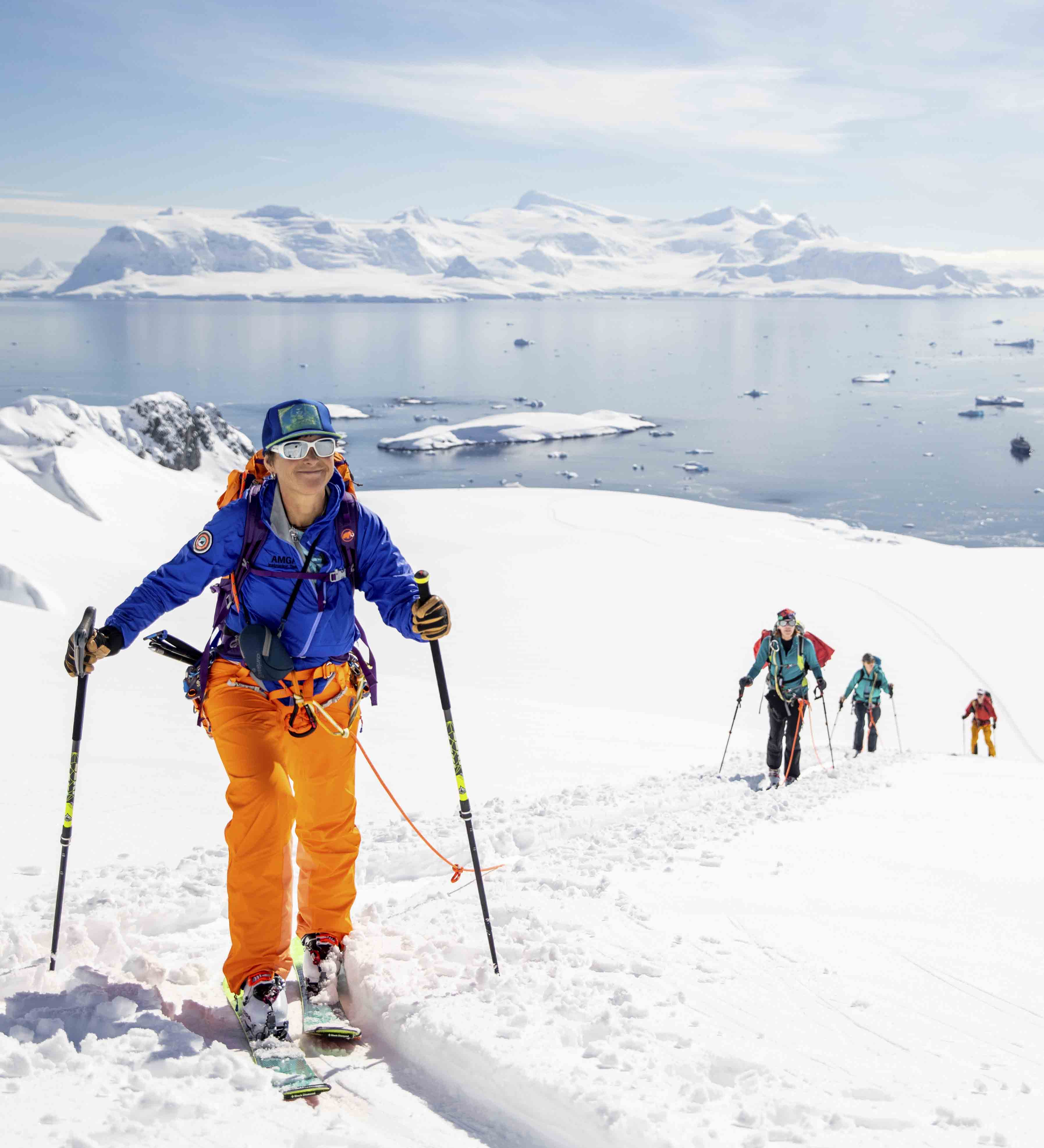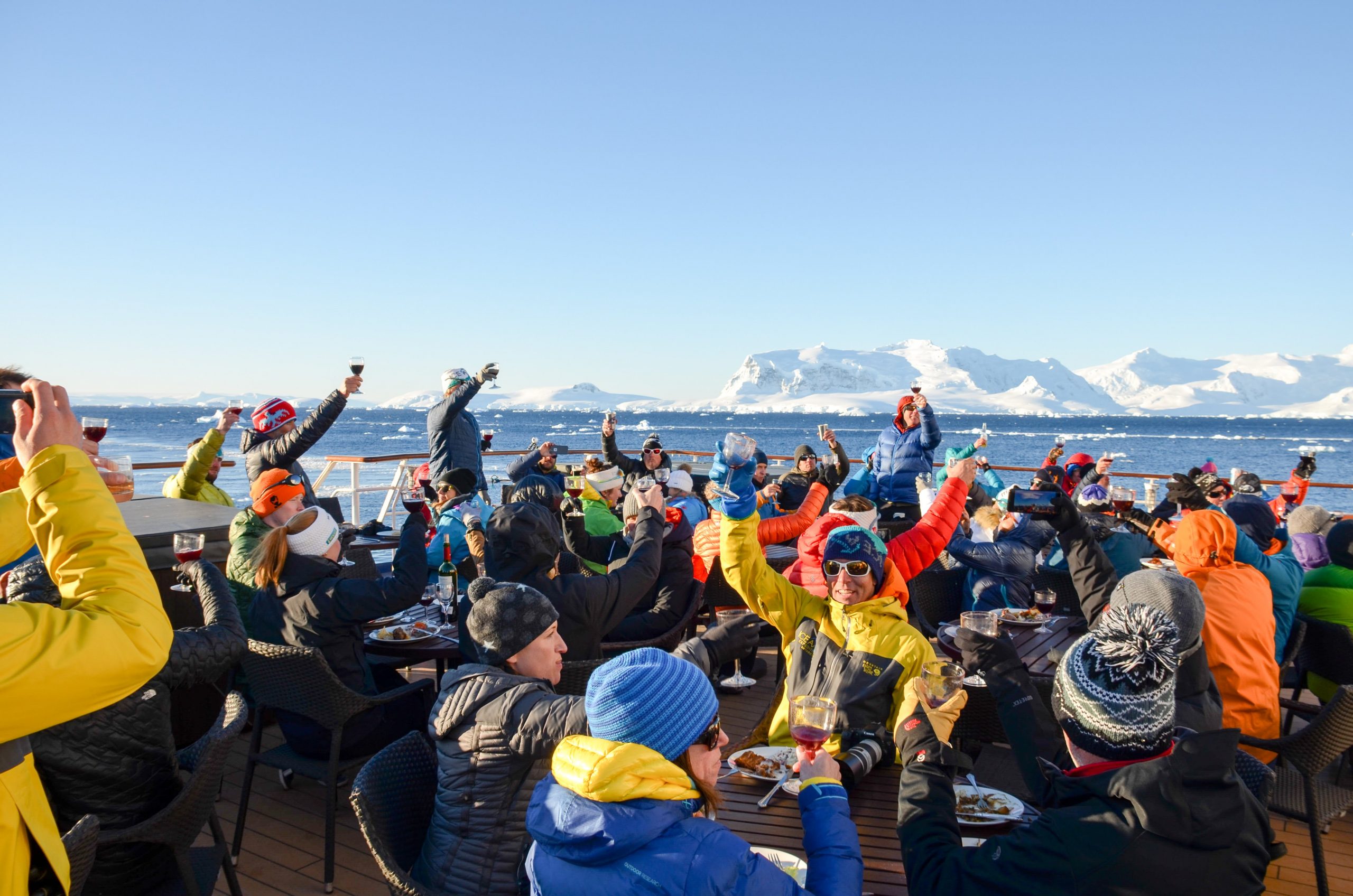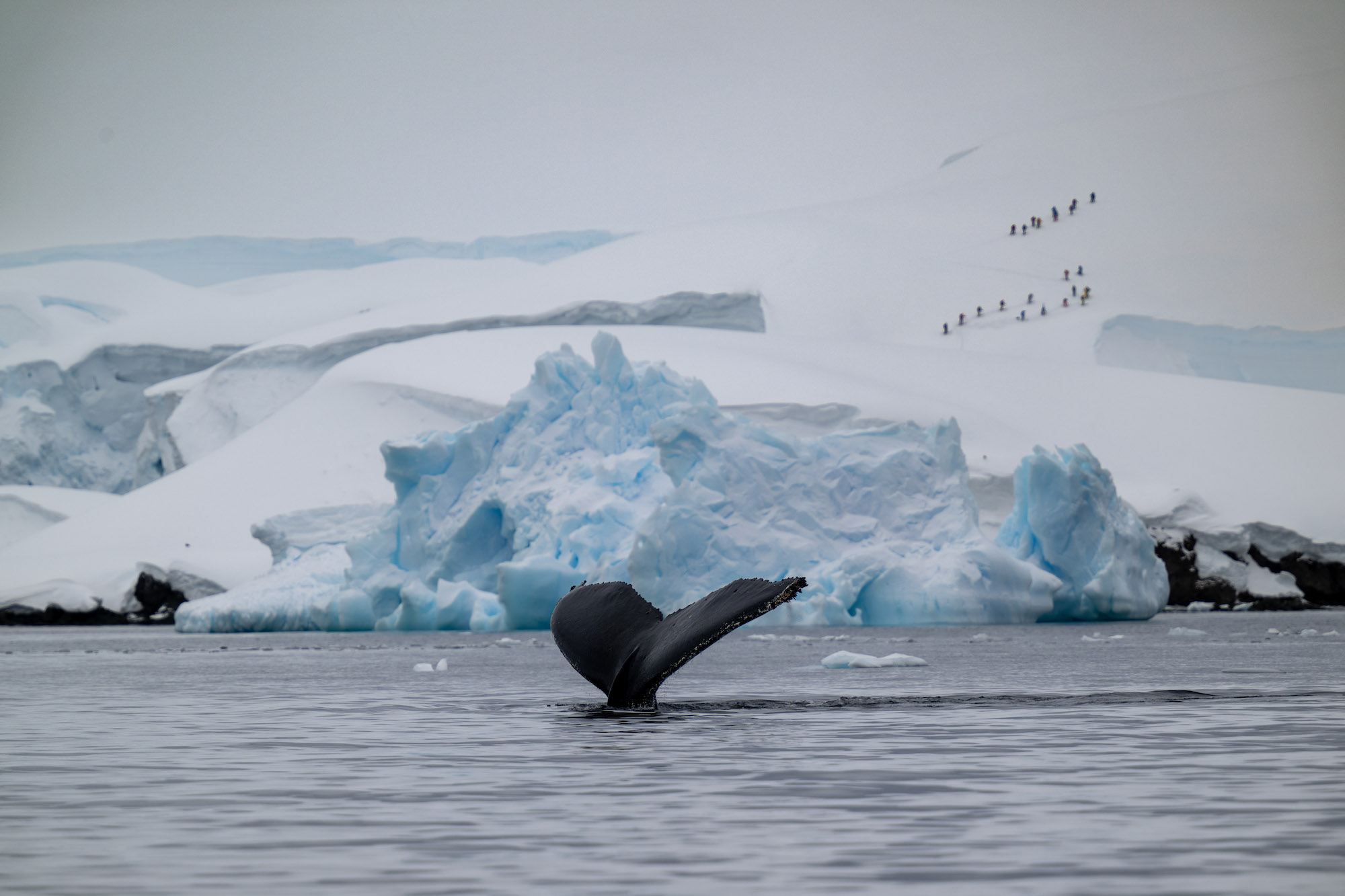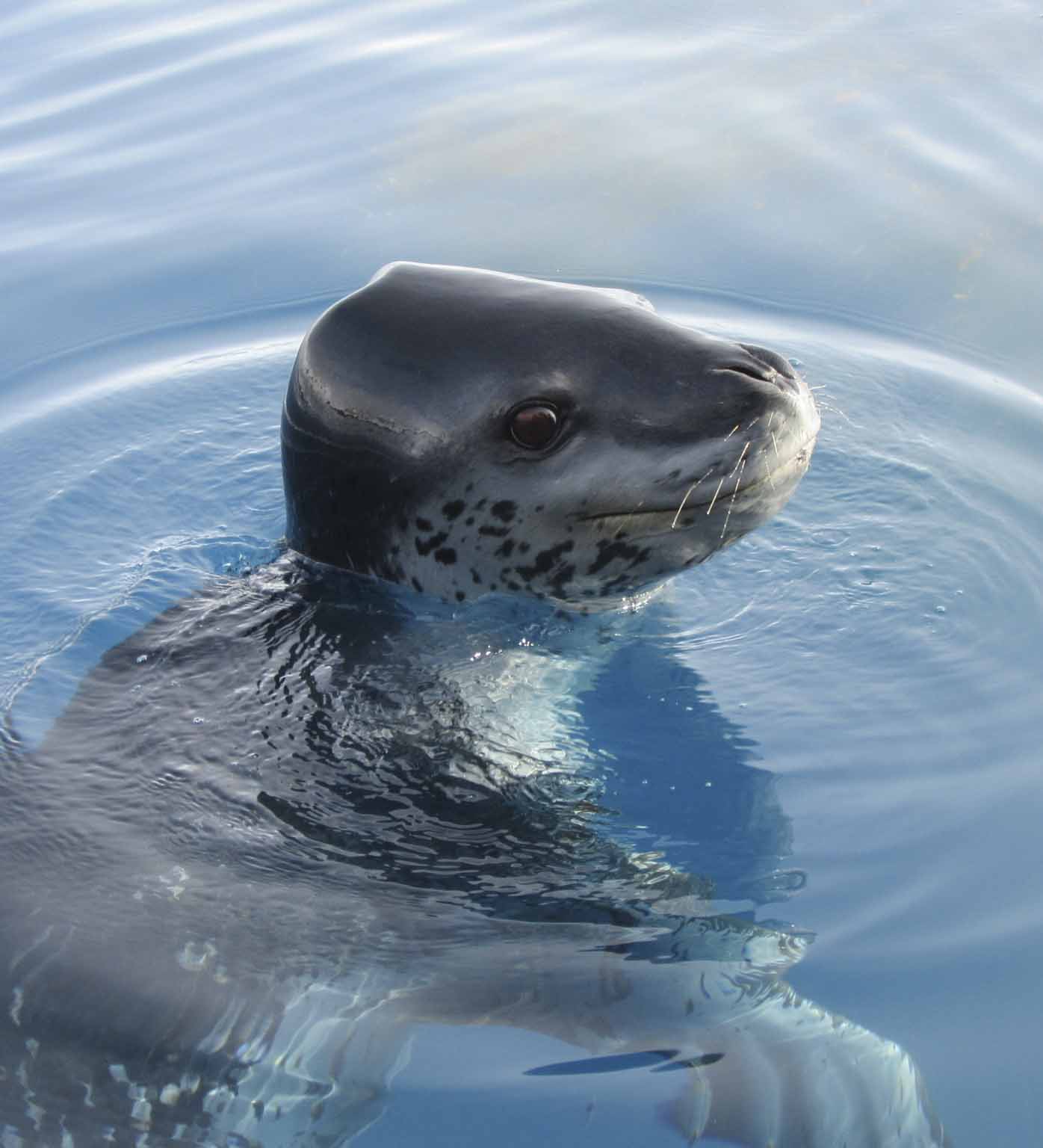 Antarctica FAQ 
How do I reserve my trip?
Fill out the form at the top of this page. When you submit your name and email it will take you to our trip video. Watch the video and then click on the "Reserve Your Trip Here" button at the bottom of the page and follow the steps.
Is it mostly families and couples, or are their solo travelers?
Out of all the destinations Ice Axe Expeditions offers, Antarctica is perhaps the most friendly for single travelers. So if you're solo, don't wait for a travel partner; many single travelers journey to the White Continent so shared cabins are available at great rates. It's a stellar place to meet adventure-minded friends for life! Most people have similar interests and are on the cruise to tick off a long-standing item on their bucket list.  One of our recent solo guests commented "It was easy to sit down next to a stranger at dinner or during the presentations and feel comfortable. So, if you are a single traveler and are nervous about booking a cruise to Antarctica for just yourself, fear not! This will be one of the best things you do in your life."
I am traveling alone. Can you provide me with a roommate?
We will do our best to accommodate all passengers traveling alone by finding the best roommate match possible. Some flexibility may be necessary. If we are unable to find a suitable roommate then you will be invoiced for a single supplement price.
What does a typical day look like?
A Typical Day: 7-8am: Breakfast, 8-9am: Disembark on zodiacs for morning ski, 12:30-2pm: Return to ship for lunch, 2-5:30pm: Afternoon ski, kayak or trek, 7-8pm: Dinner, 9pm: Evening talk/presentation from ski guide or expedition staff.
What is the weather like?
The weather in Antarctica is extremely unpredictable. Antarctica is actually the driest continent on earth and is classified as a polar desert. Only 12 inches on average of precipitation falls each year in the interior but along the coast several feet can accumulate. This means that you will likely have some sunny days ideal for skiing down its pristine mountains, wildlife viewing, and taking in the expansive landscape. Be sure to bring your sunglasses and sunscreen! It is also warmer and easier to get burnt than you may think! Heavy rainfall is unusual; strong winds are relatively common, so it is important to pack accordingly. The average temperatures on the Antarctic Peninsula during the summer months range from approximately 23º – 41º F. The weather in Ushuaia is a bit warmer but also has the wind and rain characteristics of the Antarctic weather systems.
What happens if there are delays due to unpredictable weather?
If any trip must be delayed due to bad weather, canceled or delayed transportation, sickness or any other situation for which Ice Axe Expeditions cannot make provisions, all costs incurred during such delays must be borne by trip members.
How many vertical feet can I expect to ski/board?
Skiing/Snowboarding in Antarctica is Unlike Anything You've Ever Done. Our staff does our best to get everyone out to ski twice a day. Most zones ascend out of the water averaging 1000-1500 ft. (300-500m) Our guides aim to summit peaks for optimal viewing of the amazing landscapes and then ski back to the water to interact with penguins and seals. We concentrate on providing a flexible experience where you can ski as much or as little as you wish. We will ski in about 7 different locations ranging from the South Shetland Islands to the Gerlache Straits and through the Lemaire Channel to around 64 degrees South.
What should my ability level be?
If you choose to ski/board, your ability level should be intermediate to advanced but you don't need to have any touring or glacial travel experience. 30% of our participants have no or minimal backcountry experience. We have groups (4-1) designed for the guide to instruct the basics of ski touring. Most are competent skiers and there is terrain for all abilities. We offer an optional Glacier Travel Course on Mt. Shasta in May and another in Ushuaia, Argentina days before the Cruise. This is a great refresher for those that haven't traveled in glaciated terrain in a while, and it's also recommended if you have little or no glacier travel experience so we can get you comfortable. This is a trip of a lifetime where skiing becomes secondary and the overall experience to interact with wildlife and become ambassadors for the Last Frontier will bring memories for the rest of your life.
What if I don't ski or snowboard?
That is completely fine! Lots of our guests, spouses, and family members either don't ski/board or want to mix up their activities. Beyond our ski touring option, we offer trekking and kayaking. Many guests choose to sign up for multiple activities to maximize their experience.
What type of wildlife will I see?
The krill and mineral-rich waters bring a wide variety of intriguing wildlife. Ten species of whales swim the Antarctic waters, including killer whales, minke and humpback, offering transformative water-level experiences to those exploring via kayak, or zodiac. Fur seals, crabeater seals, elephant seals, leopard seals, Ross seals, and Weddell seals are all a treat to see lounging along the shore or on ice floes. The birdlife that comes to feed on the fish drawn to the area are a variety of petrels and albatross among the terns, cormorants, and skuas; the skies are never boring. Often a rare bird can be seen far from land while crossing the famous Drake Passage. And of course Penguins! 17 types of penguins live in Antarctica and the nearby islands. We frequently see Chinstrap, Gentoo, Adelie, and Macaroni. They've never had predators on land, so they're confident—and extremely curious and will regularly walk right up to our guests. This is your chance to get up close and personal with everyone's favorite flightless bird.
What of I need to cancel?
All requests for cancellations must be received in writing. Cancellations received by June 1, 2024 or prior are refunded less an administrative fee of $750 per person. Cancellations received between June 2, 2024 and July 31, 2024 will be subject to forfeit the deposit. Please note that for cancellations received after July 31, 2024 of which full payment has not yet been received, the full penalty will still apply, and unpaid monies are due immediately. For these and other reasons mentioned, you are strongly encouraged to obtain trip cancellation insurance. Prices quoted are based on group participation and no refunds will be made for any part of the program in which you choose not to participate.
Who are your guides?
We only use the best of the best because safety is our number one priority. To our knowledge, this is the only trip to bring together this many high caliber guides on one expedition. We keep a maximum Guide to Client ratio of 4:1, and most of the time you will be skiing in a group fewer than 8 people with 2 guides. Our guides have an astonishing list of accomplishments, from climbing & skiing Everest, to pioneering over 200 first descents on all 7 continents, and so much more. They love to share their experiences with you and be a part of your trip-of-a-lifetime. Our guides are our cornerstone, making sure clients are safe in the mountains and to show them the time of their lives. At the end of the day, we want our clients to say "that was the best day of my life," and our guides live for those moments. 
With the highest Polar code 6 and Ice class 1A, Ocean Albatros is the ideal vessel for Antarctic waters due to her sturdy construction and X-Bow®-Infinity class. The new vessel is part of a brand new generation of low-energy vessels, with 4 diesel engines and 2 electro engines, all controlled electronically to optimize speed and fuel consumption. It has a total of 93 comfortable staterooms, all with a view of the ocean (90% with their own balcony). It has several restaurants, a wellness area, a nordic bar, an open deck dining facility, a modern lecture lounge, and other amenities. The vessel is environmentally friendly following the Green Initiative Program, ensuring both absolute comfort and sustainability for our guests.
X-Bow for more stability and comfort
Highest Polar code Class 6
Highest Ice Class 1A
4 diesel engines and 2 electro engines
Solas 2012 classification
Environmentally friendly in all matters
Green initiative program
Albatros Nordic Bar Lounge
Albatros Observation Lounge
Observation Sliders
Polar Spa / Wellness Area / Gym
Modern lecture lounge
Dedicated single state rooms
All staterooms with Ocean View
90% of all staterooms with Panoramic Balcony
Restaurant on Deck 5
Observation Speciality Restaurant on Deck 9
Swimming Pool, jacuzzies and Pool Bar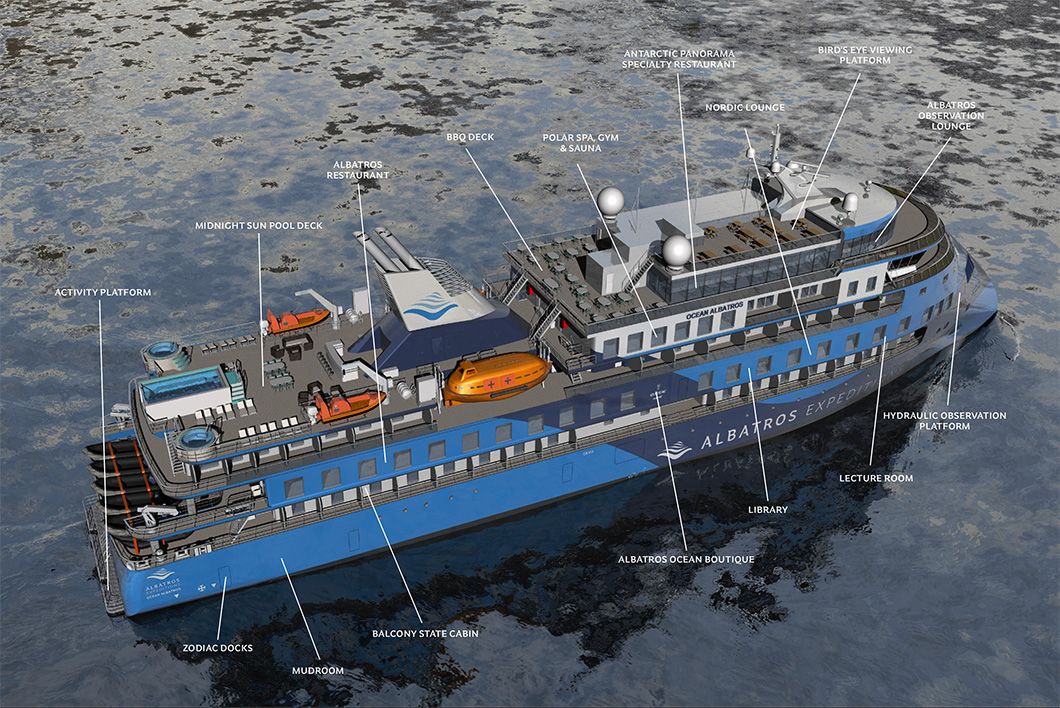 What Our Past Clients Have To Say
This trip is dedicated to skiing and other activities on the continent. Ice Axe uses world-class professional guides and has years of experience with this program. I have several friends that have been on this trip as clients and guides, and I had only heard amazing stories of previous trips. There was so much more than the skiing –- wildlife (could not get enough of the penguins!), icebergs, glaciers, and the non-stop scenery. The Ice Axe clients and guides are fascinating people from all over the world –- the stories and experiences of this group were endlessly entertaining.
This trip is dedicated to skiing and other activities on the continent. Ice Axe uses world-class professional guides and has years of experience with this program. I have several friends that have been on this trip as clients and guides, and I had only heard amazing stories of previous trips. There was so much more than the skiing –- wildlife (could not get enough of the penguins!), icebergs, glaciers, and the non-stop scenery. The Ice Axe clients and guides are fascinating people from all over the world –- the stories and experiences of this group were endlessly entertaining.
This trip exceeded my VERY high expectations in every way. From the people, the vibe, the guides, the camaraderie to the fresh snow, the penguins and the ship. I thought it'd be life changing. It was life altering! Everyone should experience the Ice Axe community in Antarctica. It's pure magic.

My wife and I operate a cat skiing lodge called Mustang Powder in British Columbia, Canada, and a friend and I organized a large group of skiers and sea kayakers to do this trip. The Ice Axe staff were all professional, courteous, helpful, and passionate about Antarctica and the expedition. It is hard to describe what is so special about Antarctica, but it is awe-inspiring and I highly recommend this trip!
I am an 18-year-old soon-to-be college student currently on my gap year. I have always loved traveling, but visiting Antarctica was something altogether different. It was the excitement and beauty of experiencing a new place mixed in with unforgettable people and the opportunity to explore the continent in my absolute favorite way of travel in the world . . . snowboarding!! I always want to strive for more and push myself to do cooler, crazier things, but this trip taught me at a young age what it feels like to have a dream come true. It was everything I could have wished for and more.
We have been on four Antarctic Ski Expeditions with Doug Stoup. He is an excellent leader and has a group of world-class professional ski guides from around the world. There is nowhere on earth like Antarctica and Doug knows it better than anyone on earth.
This was the most amazing, well organized, adventure cruise imaginable! This was an adventure that exceeded all my expectations. Such a remote, beautiful, pristine continent! There is no better way to experience it then putting on your skis and climbing around these ice peaks and skiing…. even some powder! Sometimes the penguins start to follow you up the slope! Cheers to Doug for figuring out how to do this safely in Antarctica! I believe there is no better way to experience the 7th continent!

Available Space Remaining For 2024

68%

68%
Ice Axe Expeditions 12242 Business Park Drive, Suite 4, Truckee, CA 96161
Copyright © 2023 www.iceaxe.tv
Privacy Policy | Terms
This site is not a part of the Facebook website or Facebook Inc. Additionally, this site is NOT endorsed by Facebook in any way. FACEBOOK is a trademark of FACEBOOK, Inc.